NEWS1
www.NEWS1.net
Business • Economic • Events • Reference

PHOTO ARCHIVES
OVER 300,000 PHOTOGRAPHS
24/7 Photo - Video News service

Worlds largest on-line photographic archive covering New York City.

NEWS1.net Report a news event or story | Request 24/7 Press Access | Breaking News | Television Documentaries | Syndicated Stories | License a Photograph | Video / Photography 24/7 | Price & Terms | CONTACT US |
NOTICE: If you would like to purchase or license a photograph, commission a
program or documentary, video or photography, or any other topic, please contact us at:
inq [ at ] News1.net
or call

| | | |
| --- | --- | --- |
| | Commentary, Chronicle and Breaking News | |
Frank X. Didik
The facts and only the facts, without editorialization or opinion. You decide what to believe.
2020
Click any photograph to enlarge. Press the return key on your browser to return to this screen
All photographs by Frank X. Didik unless otherwise noted

| | | | | |
| --- | --- | --- | --- | --- |
| | December 27, 2020 Gasoline prices are rapidly increasing. Super was just $2.59 a gallon a few days prior and a month ago, it was $2.46 per gallon. | | December 30, 2020 As seen from the Manhattan Bridge A cute pro-family/pro father advertisement. | December 27, 2020 Soho, New York City People continue to eat outside in 30F and 40F weather, so powerful is the desire to socialize. |
December 31, 2020 New York City The annual New Years Eve ball drop in Times Square, that has been a focal point of the City since 1904, will continue, however the entire area will be empty except for a few lucky individuals who will have special passes to view this. Normally, the event attracts hundreds of thousands of people.
December 29, 2020 New York City Dozens of bicycle riding teenager thugs terrorized Manhattan drivers. In one case on Fifth Avenue and 21 Street, a group of delinquents attacked a late model BMW SUV with a doctor driving his 70 year old mother. The thugs jumped on the drivers hood, smashed his front window, and attempted to pull the people out of their vehicle, all in broad daylight, on busy Fifth Avenue. A few minutes later, the bicycle terrorists attached a yellow taxi on nearby 6th Avenue. The cabby was rescued when other taxi's surrounded their fellow cab driver. It is stunning that these teenager thugs would attach innocent people at 4PM in broad daylight. We must have a well funded, strong NYPD who are free to enforce the law and protect the vast majority of law abiding citizens.
December 27, 2020 Washington D.C. President Donald J. Trump has signed the 900 billion dollar Covid Relief Authorization Act that Congress passed on December 22 even though President Trump says that he disagrees with the low $600 payment to each American. Tomorrow, Monday, Congress will debate increasing this amount to $2,000 for each American, though there is strong opposition to this in the Senate.
Click any photograph to enlarge. Press the return key on your browser to return to this screen
All photographs by Frank X. Didik unless otherwise noted

| | | | | |
| --- | --- | --- | --- | --- |
| | December 26, 2020 Washington Square Park on a cold day, empty of the usual protests. | | | |
December 25, 2020 Christmas Day. Merry Christmas to all! This year Christmas was clearly subdued in New York City as a result of the government restrictions covering restaurants, bars, social gatherings and many other areas. There were far less Christmas decorations and lights, when compared to previous years, even in the outer boroughs (Bronx, Brooklyn, Queens, Staten Island). Surprisingly, it seems that even Christmas trees were not being sold on every other street corner. Much of the holiday rush and festivities were curtailed. One can only imagine the financial damage that restaurants, bars and other social places experienced as a result of the restrictions.
December 25, 2020 This day is celebrated as Christmas day by 1.2 Billion Catholics, millions of Protestants and certain groups of Orthodox Christians, such as the Rumanian Orthodox. Approximately on billion Orthodox Christians, such as Greek Orthodox, Russian Orthodox, Ukrainian Orthodox, Coptic and many others celebrate Christmas on January 7th. Much of this has to do with the differences of the Julian Calendar and the Gregorian Calender.
December 22, 2020 Washington D.C. Congress passed the 900 Billion dollar Covid Relief Authorization Act. The bill is tauted as bringing assistance to businesses and people who have been suffering as a result of the government Covid 19 virus restrictions. Of the 900 Billion dollars, about 160 Billion dollars will be used to give every American who made $75,000 or less in 2019 $600. President Trump has stated that the $600 is not enough and is demanding that the law increase the amount to $2,000 for every American. An additional 125 Billion dollars will be used to extend unemployment insurance from January till March 15, 2021 for the unemployed and provides for $300 per week to those unemployed Americans. The balance of the money provided in this bill, about 600 plus billion, is being used primarily for foreign aid, thus foreign countries are receiving two hundred percent more money than Americans.
New York, NY December 17, 2020 The first snow storm of the season dropped about 7 inches of snow with wind gusts of up to 40mph(60kmph). Twelve to eighteen inches had been predicted. The snow was quickly plowed clear of the streets.
Click any photograph to enlarge. Press the return key on your browser to return to this screen
All photographs by Frank X. Didik unless otherwise noted


New York, NY December 23, 2020 The historic 120 year old Middle Collegiate Church on Second Avenue and seventh Street in Manhattan had a massive fire. This is the aftermath. It looks like an attempt is being made to save the front facade.


New York, NY December 22, 2020 The Con Edison electric power plant New York City also sells steam (heat) to many major buildings and maintains an extensive underground piping system. This is why, unlike most other cities, New York City occasionally has steam being released from man holes and drains.


New York, NY December 20, 2020 New rules has been imposed on some out of state residents entering into New York City Internal country restrictions has not been seen since the Civil war of 1861 to 1865 and in fact, was banned with the formation of the United States in 1783. At this rate, it is entirely possible that internal passports will be required, as was the case in the old Soviet Union. The purpose is to minimize the spread of Covid-19. Many people are opposed to these restrictions.


New York, NY December 20, 2020 Citi Bikes snowed in. Bicycle riding in NYC is an interesting political issue. A quick observation shows that most riders are between age 20 and 40 years old with about 2 times more men than women riders. Few people ride their bikes when the temperature falls below freezing for safety as well as comfort reasons.


New York, NY December 20, 2020 Some restaurants have build essentially complete, heated rooms on the street. Recently the City issued a new order that requires two sides of the temporary Covid-19 huts, to be open. Electric and gas heaters are simply not sufficient enough to provide adequate warmths. One has to wonder if more people will catch pneumonia or a cold than Covid-19 in these outdoor huts in 25F/-4C weather.


New York, NY December 20, 2020 Homelessness is suddenly a huge issue again in New York City This poor person is braving 32F/0C weather on Mercer Street in Manhattan.


Flushing, Queens, NY December 20, 2020 This beautiful private Nativity scene was found in Flushing Queens.


Flushing, Queens, NY December 20, 2020 Queens New York City, December 20, 2020 This year Christmas has been very subdued. One can easily see this by the significant lack of Christmas decorations as well as shortages of Christmas Trees, of all things. This however did not stop this home owner on 177 Street in Flushing Queens from celebrating Christmas by decorating his house with beautiful lights, to the delight of all who sees it.


New York, NY December 20, 2020 New York City December 20, 2020 The Church of the Holy Innocents at 128 West 37 Street has been a neighborhood landmark since 1869. It is now famous as one of the Catholic Churches that still offers the Traditional Latin Mass.


New York, NY December 20, 2020 This beautiful alter painting in the Church of the Holy Innocents was painted by Constantino Brumidi. He is also known for painting the Great Rotunda of the U.S. Capital Building.

The organ dates from 1879 and was designed by George Jardine & Son, at the cost of $15,000 (over 1 million in 2020 money). It was first played on November 9, 1879.


New York, NY December 20, 2020 The Washington Square park Christmas Tree. Until the early 1960's, it was possible to drive your car through the park, however this was closed off and the water fountain was moved in the early 2000's about 100 feet (33 meters) east, so that it was directly in front of Fifth Avenue.


New York, NY December 20, 2020 Washington Square Park Christmas tree on a cold, snowy winter afternoon.


New York, NY December 20, 2020 The Rockefeller Center Christmas Tree. As a result of the Covid-19 restrictions, people are being forced to view the tree from a distance, primarily from Fifth Avenue.


New York, NY December 20, 2020 Sacks Fifth Avenue colorful Christmas display, however this photographer did not find the word "Christmas" or "Merry Christmas" on the store.


Brooklyn, New York December 17, 2020 NYC experienced a huge snow storm that dropped about 7 inches of snow with wind gusts of up to 40mph(60kmph). Twelve to eighteen inches had been predicted. The entrance of the Manhattan bridge, from the Brooklyn Side.


New York, NY December 16, 2020 A typical Bethlehem scene. St. Francis of Assisi first started this in the 1200's. Baby Jesus is not placed into the manger till December 25.


Greenpoint, Brooklyn, NY December 23, 2020 Many streets in the outer boroughs (Brooklyn, Queens, the Bronx, Staten Island) decorate their streets with lights. Till the late 1970's, the message was "Merry Christmas", though today most say "Seasons Greetings" or "Happy Holidays". The change over was very controversial at the time.


New York, NY December 20, 2020 The main Manhattan Post Office on 8th Avenue between 32 and 33 Streets,decked out in Christmas colors.


Brooklyn, NY December 20, 2020 Gasoline prices are slowly going up, though still significantly lower than last year.


New York, NY December 20, 2020 Restaurants throughout New York City are desperately trying to stay open and not go out of business, but it is extremely difficult considering that only out door dinning is permitted and the temperature is in the thirties.


New Jersey December 17, 2020 This is the interior of the famous circular "Worlds Fair Diner" on Rt 9 in New Jersey.


New Jersey December 17, 2020 It was first opened in 1939, in the first New York City Worlds Fair, that many people felt was the best Worlds Fair, though this is up to debate considering the Columbia Exhibition of 1892, the Paris Worlds Fair that introduced the Eiffel Tower and the British Worlds Fair in the 1850's. All of the worlds fairs introduced amazing technical innovations, such as steam engines, electricity, electric lights and much more.


New Jersey December 17, 2020 Exterior of the Worlds Fair Dinner


New York, NY December 17, 2020 Strangely, "Open Street Restaurants" are still being pushed. Few drivers and locals actually seem to like closing the streets for this purpose, particularly in the cold wintertime.
Washington DC December 14, 2020 7PM EST Joe Biden is elected by the electoral college to be the next president of the United States with 306 electoral votes to President Trumps 232 votes. The vote still has to be certified, which normally occurs on January 6. Issues regarding voter fraud still persist, though it would seem that objections to Mr. Biden's presidency will not prevail.
Washington DC December 14, 2020 Attorney General William Barr has resigned after continued criticism of his performance by President Trump.
New York, NY December 14, 2020 An intensive care nurse in Queens was the first to receive the new Corona vaccination, in a ceremony that included Governor Andrew Cuomo. Other vaccination shots were also given in Iowa, Ohio and Washington DC. The vaccination it still not completely trusted and a number of NYC agencies have stated that they will not require their members to take it. Further, recent studies have shown that less than 50% are willing to take the vaccination.
New York, NY December 14, 2020 Much to the chagrin of business owners and the general public, Governor Andrew Cuomo has again locked down the City of New York, based on data of an increasing number of Corona/Covid-19 cases. Christmas time is the largest sales time for businesses for the entire year. The closure of most businesses during this critical time may well spell the end of hundreds of small and medium sized businesses. Churches, synagogues and other religious facilities will continue to operate and hold services based on recent U.S. Supreme court rulings.
New York, NY December 13, 2020 A huge winter snow storm is expected to hit New York City on Wednesday with some meteorologist predicting as much as 12 inches of snow, though more likely the accumulation will be between 3 and 6 inches of snow. This will possibly mean that New York will have a white Christmas! White Christmas's are relatively rare in New York City Between 1800 and 1900, there were only 7 recorded white Christmas's back then. Perhaps this is why the Currier and Ives prints of a snowy City were so popular. Or as Bing Crosby's 1940's song "I'm dreaming of a white Christmas" was so popular, since snow on Christmas was and is rare.
New York, NY December 4, 2020 The NYPD press office has released crime statistics for the month of November and has compared this with the month of November 2019. Murder is up by 21.7%, burglary is up by 41.3%, rape is up by 3.4% but perhaps surprisingly, Grand Larceny is down by 17.5%, and robbery is down by 5.6%. www1.nyc.gov/site/nypd/news/p1204d/nypd-citywide-crime-statistics-november-2020
Click any photograph to enlarge. Press the return key on your browser to return to this screen
All photographs by Frank X. Didik unless otherwise noted


Macy's has a huge sign on their building that has the single word "Believe". The question is, believe in what?


Instead of Merry Christmas, Macy's has a sign above Stanta Clause and in several of their windows saying "Thank You". Thank you for what?


This window display uses the tired old 1970's and 1980's hippie commune type catch phrases and words, such as "believe in love, believe in Santa, believe in whatever". One has to wonder, how will this inspire anyone to shop for Christmas gifts. Without using the traditional holiday words of "Merry Christmas" or accepting that the "holiday season" is of course, the Christmas season, the feeling is that the holiday has been gutted. Why shop?


This sign on Macy's says that even Santa is working remotely. Macy's is one of the last remaining classic department stores. Sadly so many department stores have gone under over the past 50 years in Manhattan. Gertz, Korvettes, B. Altman, Century 21, Symes, Filenes basement and so many others. Hopefully they will not be joined by even more closures.


December 8, 2020 "Twas the night before Christmas and all through the house, not a creature was stirring, not even a mouse". Unfortunately so many department stores are completely empty. Ten years ago at this time, the stores would be jammed packed with Christmas shoppers. It is not only the Covid fears, nor on-line shopping that is causing this. After all, most people people prefer shopping in stores, if only for the social interaction. To a degree, the warm, happy, Christmas season itself has been undermined and pushed aside by many stores.


December 8, 2020. Homeless people have taken over the City and are found everywhere. Many, if not most, of the homeless have severe mental problems and are often seen talking to themselves or screaming. This along with the rising crime rate is significantly reducing the quality of life in New York City and is driving the most productive people to leave the City for the suburbs or even out of the region altogether. With remote working, it is easier than ever to leave the City


An NYC Transit sign teaching people how Transit wants people to wear their mask.


Subway ridership remains very low when compared with pre-pandemic fears.

An empty R train on December 8, 2020 at 6:15PM. Normally this train would be packed with rush hour riders.
Photo by Tetiana Fedyk


Crime rate is skyrocketing throughout New York City, making the City less livable. Hopefully the City will not fall back into the bad days of the 1970's and 1980's. This warning was issued by the NYPD on teh Upper East Side to warm citizens to be careful with their belongings.
Photo by Charles Levit


December 6, 2020 EJ's Luncheonette on the Upper East Side has installed expensive air purification system.
Photo by Charles Levit.


Washington Square Park in 40 degree weather.


Restaurants continue to suffer in New York City With 30 to 45 degree weather, even with gas or electric heaters, eating outside is unbearable for most people.


The main Post Office on 33 Street and 8th Avenue is being renovated inside.


Interior of main Post Office with scaffolding going up.
December 4, 2020 Presumed president elect, Joe Biden stated that he will not make any Covid-19 vaccination mandatory.
New York, NY November 29, 2020 It would seem that Black Friday sales that most retailers depend upon, did not produce the sales that were expected. A preliminary look at many department stores in New York City showed very few shoppers. This is in stark contrast with the past.
New York, NY November 28, 2020 The FDNY Union has stated that they will not require firefighters to get the Covid-19 Vaccination, when it is available.
New York, NY November 22, 2020 The law legalizing electric scooters with a top speed of 20 miles per hour and electric bicycles that have a top speed of 25 miles per hour, came into effect today. It was originally voted on on June 25 and Councilman Fernando Cabrera (D-Bronx) was the main sponsor. Effective on August 2, 2020, certain electric scooters and electric bicycles became legal to ride on roads that have a maximum speed limit of 30 miles per hour, outside of New York City in New York State. These vehicles, however, still can not be registered.
Election Note: The actual presidential election will occur on December 14, when the 538 electors, chosen by the voters, will get together in Washington DC and decide who the next president of the United States will be. Electors may chose any person that they want to become the next president of the United States, who qualifies for office, as per the constitutions (must be born in the United States and be at least 36 years old). When a person votes, they are not voting directly for the president, but rather they are voting for an elector who may or may not vote for the person that the voter hopes that the elector will vote for. In practice, the December 14th election normally is a rubber stamp of what the voters have voted for, though from time to time, an elector vote for someone else. This particular election is very different than past elections, with the country completely split down the middle so anything can happen. After the December 14 voting, the vote is certified and this certification usually occurs around January 5th. Further, the GSA (General Services Administration) will often agree that a certain candidate has been elected, when the opposition candidate accepts loss and there is not any question to the validity of the vote. However this election, the GSA has not done this and thus Federal funds has not yet been released to Joe Biden's potential presidency and transitional team. Federal agencies are significantly independent from presidential whims, though a sitting president often does have the right to fire the head of the agency. America is in a most unusual and volatile situation.
New York November 10, 2020 Many lawsuits have been filed by groups concerned about voter fraud, in the presidential election, including suits that have reached the United States Supreme court. One legal action is claiming that the Pennsylvania Supreme Court, that ruled that absentee ballots post marked up to 8PM on November 3, 2020, and received as late as November 6, 2020 at 8PM can be counted. The Suit to the US Supreme court claims that the Pennsylvania Supreme court ruled beyond their ability since only the Pennsylvania legislature can change the date. The Supreme court has temporarily ruled that all votes received in the later time frame must not be counted and must be separated and secured, till the Supreme Court makes its final ruling. Other suits have been filed that is pitting state against state. There are parallels between what is happening now and what happened in Spain leading up to their civil war between 1936 and 1938. Similar parallels can be drawn between what is happening today with the events of the 1860 election of Lincoln.
New York November 7, 2020 Major media outlets are proclaiming that former Vice President Joe Biden will be the next president of the United States. This is because Pennsylvania has released their preliminary, though uncertified, vote count, which, if accurate, will push Joe Biden to have potentially 279 Electoral votes to Donald Trumps present, preliminary count of 213 Electoral votes. It should be noted that there is widespread belief that the the vote count and election is some how inaccurate. Republicans are alleging that there has been ballot stuffing, dead people voting, ineligible people voting, inaccurate vote counting and other voting irregularities. It would now seem that the election is headed to the Supreme Court to ultimately decided on who the next president of the United States will be.
Click any photograph to enlarge. Press the return key on your browser to return to this screen
All photographs by Frank X. Didik unless otherwise noted


New York November 5, 2020 The NYPD Police precincts are taking extra precaution to guard against looting and protesting fanatics.


New York November 5, 2020 Some restaurants have resorted to cooking outside to comply with the Governors social distancing executive order.


New York November 5, 2020 Chinatown outdoor dining in clever, rolling cart stands with single tables. An excellent method of enforcing Governor Cuomo's highly controversial rule on "Social Distancing".


New York November 5, 2020
A March on Seventh Avenue and Waverly Place. The NYPD showed remarkable restraint.


New York November 4, 2020 In anticipation for post election violence and looting, the NYPD blocked most streets leading into Soho, to prevent a repetition of the looting that occurred on May 31, 2020 there.


New York November 4, 2020 Some of the marchers, including women, screamed extremely vulgar words at the NYPD officers. To the officers credit, they are completely professional and held back from any reaction.


New York November 4, 2020 A March in Greenwich Village. The Police on bicycles are a very effective method of crowd control.


New York November 4, 2020 A left wing/Black Lives Matter march around Washington Square Park in New York City is chanting count every vote and also Black Lives Matter. As with most similar protests, there are very few black people in the crowd.
Election News Update...
November 4, 2020 3:00PM The big 3 major news media are now claiming that Joe Biden is leading Donald J. Trump in a sudden jump with, by their projections, the swing states of Michigan, Wisconsin, Nevada, Arizona, and even North Carolina are now favoring Joe Biden. This is not official as all of the votes have not been counted and the votes must be certified. Further, groups favoring Donald J. Trump are promising a legal challenge regarding the vote count, ballot stuffing, alleged dead people voting and other forms of voter fraud.
Election Night News ...
November 4, 2020 2:39 EST Based on the counted votes, it would seem that President Donald J. Trump is on the road to an election victory, however some states where President trump has a significant lead, still has uncounted mail in voter ballots and these must be counted. The significant number of mail in ballots is causing a difficult situation for the American Republic and also opens up questions of voter accuracy on both sides of the political arena.
Election Night 2020 2:39AM EST
President Donald J. Trump vs. former Vice President Joe Biden
There are a total of 538 electoral college votes distributed among the 50 states based on population. In order to win the election and become or remain the President of the United States, the candidate must win 270 electoral college votes. As shown below, the states in dark red have voted for President Donald J. Trump to remain in office for another 4 years, starting on January 20, 2021, while the states illustrated in dark blue have voted for former Vice President Joe Biden to become president of the United States. The states in light red are leaning towards Donald J. Trump, but the total number of ballots has not been counted as of this time, while the states illustrated in light blue are leaning towards Joe Biden. The numbers are the total number of electors per state. In most states, the winner takes all of the electors, however in Nebraska, the winner only gets the votes that are cast for the specific candidate.
With the uncontested states, former Vice President Joe Biden has a total of 220 electoral votes, while Present Donald J. Trump has a total of 213 Electoral votes. However when the disputed states are considered, leaning for one candidate or the other, former Vice President Joe Biden has a total of 240 Electoral college votes while President Donald J. Trump has a total of 290 Electoral college votes. These figures do not include Alaska's 3 votes nor Hawaii's 3 votes.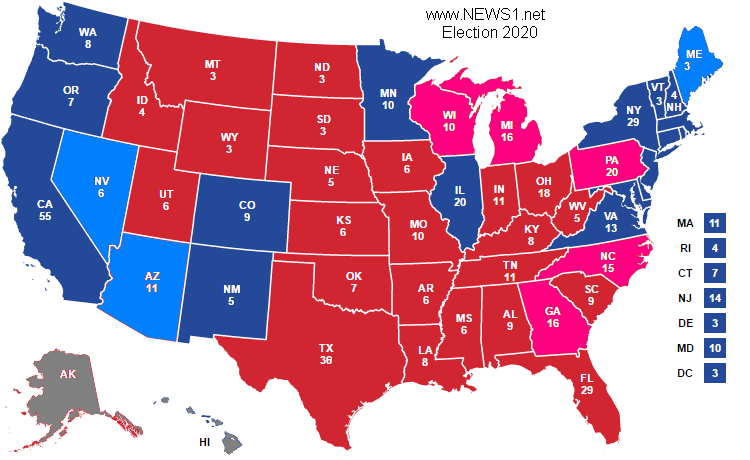 Electoral College vote distribution as of November 4, 2020 2:39AM EST
Red: President Donald J. Trump
Blue Vice President Joe Biden
Click any photograph to enlarge. Press the return key on your browser to return to this screen

| | | | | |
| --- | --- | --- | --- | --- |
| New York, NY November 3, 2020 Election night. Soho boarded up out of fears that there may be violent protests and looting as a result of the election. | New York, NY November 3, 2020 Election night. Washington Square Park, which is usually the center of protests, is surprisingly quiet. | New York, NY November 3, 2020 Election night. The Hilton Hotel on 55 Street and 6th Avenue is all boarded up | New York, NY November 3, 2020 Election night. The entrance to the Hilton Hotel is protected by heavily armed NYPD officers to prevent looting and violence. | New York, NY November 3, 2020 Election day. Many stores have taken the precaution of boarding up their windows, in case of violent protests and looting. |
| | | New York, NY November 3, 2020 Election day. Stores across the City are boarding up. This never happened in the past. It underscores how politically divided the United States is today. | Outdoor dining will not be an option as the weather gets colder, even with outdoor heaters. It is time to get back to normal and let the virus take its course or else this City and country will never the be free country that it was till recently. | People waiting on live to take the Covid/Corona/Wuhan virus test. Major questions exist as to the accuracy, safety and need for such tests, beyond political mandates. Further, the virility of the virus is now in question. |
New York, NY November 2, 2020 The City is surprisingly quiet considering that perhaps the most contentious election since the Civil War in 1860, is about to happen tomorrow. Perhaps this is the quiet before the storm. Regarding weather, today the temperature dropped from the normal mid 50'sF to only 38F (3.5C) with wind gusts of up to 50MPH (80km/hr).
New York, NY November 1, 2020 Surprisingly few protests have occurred throughout the City and the protests that did occur, were very small events. This is counter to many of the dire predictions that NYC would erupt in protests, considering that the presidential election between President Donald J. Trump and former Vice President Joe Biden is only two days away on November 3, 2020.
October 29, 2020 New York State Governor Andrew Cuomo announced a new executive order requiring people entering the state from most areas outside of the state, requiring a Covid test, and quarantine till the test results are determined and if the person is said to have the virus, quarantine for fourteen day and then an additional test. Travels from New Jersey, Connecticut, and Pennsylvania are exempt.
October 29, 2020 Germany, France, and the United Kingdom have announced separate new lockdown measures in order to control the alleged increase in the Corona Virus. Many protests are being conducted across Europe protesting the draconian lockdowns and loss of freedom of movement and association, preventing religious services and other restrictions.
Click any photograph to enlarge. Press the return key on your browser to return to this screen

| | | | | |
| --- | --- | --- | --- | --- |
| Soho, NYC Halloween, October 31, 2020. An all girls group called the Heights Band serenading the locals. | NYC Halloween costumes, October 31, 2020. The ever popular Halloween parade was canceled because of the Corona Virus hysteria and so people dressed up on their own and enjoyed the day. | Many protesters in NYC protesting various social and political issues. Here is a group of people protesting the Thailand Government, demanding more freedom and an end to corruption. | Another group protesting China's infringement on Hong Kong which they say violates the 1997 agreement between the British, the Chinese and the Hong Kong citizens. | NYC Washington Square Park, October 31, 2020 Another Black Lives Matter protest, this time on bicycle. Most of the protesters are white. |
| | October 31, 2020 Union Square An anti Trump protest conducted by a socialist group called "Refuse Fascism". | | Even during the Corona Virus hysteria, the popular Union Square farmers market continues to supply locals with fresh produce. | Gasoline prices remains steady and low, for the time being. |
October 25, 2020 New York City A huge number of pro-Trump people converged on Manhattan's Fifth Avenue and in some cases, anti-Trump protesters clashed with the pro-Trump crowds. Many of the pro-Trump crowd were Orthodox Jewish people including the Jews For Trump group, but there were other pro-Trump people as well. They started in Brooklyn, went over the Brooklyn Bridge, and then up to Fifth Avenue, passing Trump Tower and headed south.
Click any photograph to enlarge. Press the return key on your browser to return to this screen

| | | | | |
| --- | --- | --- | --- | --- |
| News1.net gets the photo on land, sea and the air! | October 25, 2020 A man playing his shovel shaped guitar on Prince Street, in the Soho area of Manhattan | Creative names. Here is the Cuomo Combo, presumably named after the Governor of New York. Many restaurants and businesses blame Governor Cuomo for the lockdowns. | Tourists originally from Russia, who now live in Chicago, enjoying a warm day on Fifth Avenue. | Wild West New York City! Suddenly, the Vehicle and Traffic Safety Law of the State of New York is being ignored, when it comes to motorcycles, electric bicycles, scooters, skateboards and similar. It seems that very few of these vehicles are registered, have insurance, license plates. It is doubtful that the riders have a motorcycle license. It is not uncommon that these vehicles ride in the bicycle lanes, go the wrong way in traffic, and completely ignore red lights and pedestrians crossing. |
October 25, 2020 New York City New York City is dying, or it sure looks that way. Who would have imagined that this could happen in January. Every where you look, you see closed stores, restaurants and office space for rent. Since June, the State has prevented landlords from evicting non rent paying tenants, and yet the landlords still have to pay their bills, such as electricity, fuel, taxes, insurance and other expenses. We may well see some marginal buildings defaulting and New York City may again have massive abandonment, as happened in the City in the 1970's. With an estimated 40% of the office work force working remotely, the office space market will surely suffer. In addition, if you can work from home in Manhattan, why not work from a pleasant area where your money goes farther? This is exactly what it happening and for the first time in memory, there is a glut of apartments on the market. Landlords are offering leases where by the first few months are given free or offering greater services such as free parking. Presently New York City is running on momentum. Part of the economic activity that one sees is a false allusion. Some people who feel that they don't need to pay rent, are using their rent money to buy goods and services. The Federal unemployment subsidies gave the unemployed more money than if they had been working. This also has led temporarily to greater spending. With people moving out of the City in droves, partly because of greater crime and protests and partly because of the ability to work remotely, and the fact that people have developed new spending habits, it is possible that New York City will not "snap back" as some people hoped.
| | | | | |
| --- | --- | --- | --- | --- |
| Closed stores are everywhere. | | | | |
| A sign encouraging citizens to vote. In the 1890's, Mark Twain said that if voting ever changed anything, it would be illegal! | A large sign encouraging people to vote for Joe, presumably Joe Biden. It is difficult to say if such a sign will have any effect at all. | October 25, 2020 vendors on Union Square selling their goods to the few customers. | It is interesting that the Churches were closed because of the Covid/Corona scare and that they did not trust in God, as they always tell their parishioners to do. | October 20, 2020 Finally, the disgraceful mask that helpless Atlas was forced to wear for a while, has been removed. |
| Many if not most restaurants are putting up side curtains to their outdoor seating. Wasn't the original purpose of outdoor seating to prevent enclosures? Nothing makes sense with the Corona/Covid hysteria. | | October 17, 2020. A warm evening in Washington Square Park with people enjoying the moment and socializing. | Some restaurants have gone out of the way to actually build structures on the street for their "outdoor" seating. Such is the status of the 2020, much hyped Corona/Covid hysteria. | Locals vandalizing a freshly poured cement sidewalk. Landlords are required to maintain and pay for sidewalks and one can only guess what the landlord will say when they see this new sidewalk destroyed. What these people are doing in Greenpoint Brooklyn is similar to spraying graffiti on cars or trucks. |
| NYC's beautiful skyline. | | October 14, 2020 Upstate New York in Wurtsboro, Sullivan County, about 70 miles (110km) north of New York City | Beautiful changing leaves. One can easily rent a nice house, with nearby restaurants in upstate New York for the same price as a "luxury" studio (one room) apartment. With working remotely, this is exactly what people are doing. | Real estate prices outside of New York City are shooting up, while NYC real estate is life support. Hopefully this will change soon. |
New York City October 13, 2020 NYPD Commissioner Dermot Shea sent a memo to uniformed police officers telling them to prepare for protests starting around October 25 and may last to beyond the November 3 election and on to January 2021. Needless to say, there is fear of civil unrest, similar or worse than what happened around the City on the night of May 31, 2020.
October 10, 2020 Questions arising regarding the safety and accuracy of the Corona/Covid 19 DNA/PCR nasal swab test. PCR or Polymerase Chain Reaction error rate averages 4% or one in 25 tests are wrong. However the way the laboratory test is conducted and amplified, the error rate can be significantly higher. Determining if someone has been exposed to Corona/Covid is a little like alchemy and is somewhat arbitrary. It is not known if merely because a person has been exposed to the virus and may have virus antibodies if that person is a danger to others. As it turns out, most public declarations seem to be speculative.
October 8, 2020 Major deployment of the NYPD around the City in key locations for potential riot control.
October 7, 2020 Hasidic Jewish people in Borough Park Brooklyn stage a massive protest against mask regulations and the closing of their community.
October 3, 2020. According to Fox News a woman having the Covid PCR test had her brain lining punctured during the Covid nasal swab test causing brain fluid to leak out of her nose with the potential for a deadly infection. She experienced a severe headache, neck stiffening, vomiting, sensitivity to light and other symptoms. Needless to say, there are risks in taking the DNA/PCR Covid/Corona test.
September 29, 2020 Cleveland, Ohio The first of three planned debates were held this evening between President Donald J. Trump hoping for a second term in office and presidential hopeful, former Vice President Joe Biden. Most people expected President Trump to overwhelm former VP Biden. Rumors of Biden's alleged failing cognitive ability were quickly proven wrong. As it turns out, Biden appeared very presidential, while President Trump came off appearing argumentative and kept interrupting Biden during Biden's allotted time. Former VP Biden also interrupted President Trump during President Trumps allotted time. With all of the cross talk, it was hard to follow what each candidate was trying to say. Some might come to the conclusion that Trump last ground last night, and perhaps even disappointed some of his base, but since the policies are so different between the candidates, it is doubtful if either candidate ultimately lost their existing supporters. From a technical point of view, Biden's Podium was videoed straight on, while Trumps Podium was on a slight angle, making Trump appear to be leaning into the podium and to a degree, this played up to the stereotypes about him. Further, for what ever reason, the camera seemed to zoom closer and cropped Biden in a more effective manner than Trump. President Trump often faced former VP Biden, while Biden spoke directly to the people by facing the camera. Some say that Biden's tie contrasted better. The whole thing reminded this writer of the Nixon -Kennedy debate of 1960. VP Biden did not go into details about his plans and what he would do, and only spoke in generalities, that could be interpreted in many ways. President Trump outlined his prior record and successes and went into greater detail as to what he would do if elected to a second term. The country is almost evenly divided between to different political ideologies and it remains to be seen the result of such stratification between now and the weeks and months after the election. Some are concerned about possible civil unrest.
September 28, 2020 Significant problems have emerged throughout the country regarding absentee ballots for the upcoming presidential election. Ballots have been found discarded in a number of states. Further, in New York City, some people received ballots without a proper return envelope, that would make their voting open rather than secret. Others received ballots designed for the military and fear that their vote would be ruled unacceptable. Yet others received ballots with the name of a different person on their return envelope. A district in Minnesota is being investigated for collecting ballots from the elderly and possible fraud. It is obvious that until the problems of mail in ballots are resolved and can be considered accurate and fair, the in person voting is a must.
September 28, 2020 Johns Hopkins University has declared that 1 million people have died of the said Covid-19 virus world wide. This means that of the estimated 7.5 billion people on the planet, the chance of dying from the virus is about 1 in 7500, or .00013 percent.
Click any photograph to enlarge. Press the return key on your browser to return to this screen

| | | | | |
| --- | --- | --- | --- | --- |
| New York Sept 27, 2020 Some streets in New York City, including parts of West 32 Street, Spring Street and others, has been closed to allow restaurants to open out door spaces on the street. Restaurants are for this but drivers and many residents are against this. | New York Sept 27, 2020. Some restaurants have become very creative with their outdoor space,as this one on Sixth Avenue and 29 Street. | New York, Sept 27, 2020. More and more people feel that the virus numbers were exaggerated and that the virus is over and that the City and State should suspend all virus restrictions. | New York, Sept 27, 2020. This group in Washington Square Park is planning anti-lockdown protests every Saturday at 5PM at Union Square. | Washington Square Park, Sept 27, 2020. A lovely, warm 75F day. Washington Square Park is always interesting and has been the focal point and meeting place for protests of all types since before 1900. |
| Sept 27, 2020. People enjoying a warm day in Washington Square Park. | Exotic foods sold in Chinatown. | One of the many markets in Chinatown. | September 26, 2020. The leaves are beginning to change color. In a few weeks, the trees will change from green to bright red, yellow and other colors. | St Marks Place in the East Village on September 24, 2020. The area is packed with dinners enjoying a pleasant, warm evening. |
"Temporary" seems to have become the new permanent under the virus hysteria lockdown. Many people around the world are now questioning both the severity of the virus as well as the need for lockdowns. In Berlin, crowds of over 100,000 people have demanded the immediate cessation of the lockdown. Similar huge protests have occurred in London and many other cities around the world. Many believe that the dangers to the virus were greatly exaggerated and that the methods employed, such as lockdowns, closing businesses, loss of jobs, suspension of many basic medical and dental services and quarantines has done greater harm to society, and it would have been better if the apparently mild virus would have been allowed to run its course. Millions of people have lost their jobs, many permanently, around the world. Further, restaurants, and many other small and medium sized businesses have closed for good. There are many vacant store fronts in New York City
Washington DC September 26, 2020 President Donald J. Trump has nominated Amy Coney Barrett, a conservative, to replace Ruth Bader Ginsburg, an extreme liberal, to the U.S. Supreme Court. She is expected to be confirmed by the Senate, but a small majority. If confirmed, the court will have a 5 to 4 liberal bend.
| | | | | |
| --- | --- | --- | --- | --- |
| Protests continue in New York City One group is planning to have ever larger protests starting on October 3, 2020 and continuing to the election. | September 23, 2020, Bethesda fountain in Central Park. Life continues, with this couple about to get married, even with the Covid virus hysteria. | An artist in Central Park. | Lines, "social distancing", and masks continue to be enforced in New York, though many scientists believe that such measures does not prevent the spread of viruses | Sept 21, 2020 Astoria Queens. Astoria has emerged as one of the major night life spots under the continued Covid restrictions. |
| | | | | |
| --- | --- | --- | --- | --- |
| Washington Square Park on particularly warm evening of September 17, 2020 | | September 17, 2020, Supreme Court Justice, Ruth Bader Ginsburg (RBG) died from pancreatic cancer. Born in Brooklyn in 1933, she was 87 years old. | Judge Ginsburg was a liberal judge who had ruled in favor of late term abortion, gay marriage and other liberal causes. With her passing, liberals are concerned that President Trump will appoint a conservative judge who will create a 5 to 9 conservative majority on the Supreme Court. The country seems to be evenly divided on this. There is concern that the country's divisiveness may lead to civil unrest. | The 911 memorial lights have moved. Originally, the lights were located at the actual site of the original World Trade Center Towers, but now the are located further downtown. Click here for a first hand, unedited account of the events of September 11, 2001 World Trade Center destruction, written on the evening of 9-11-2001, including rare photographs by News1/Frank Didik. |
Older photographs and commentary from 2020: page 2, page 3 , page 4
Photo Journalistic Index

NEWS1
Breaking
News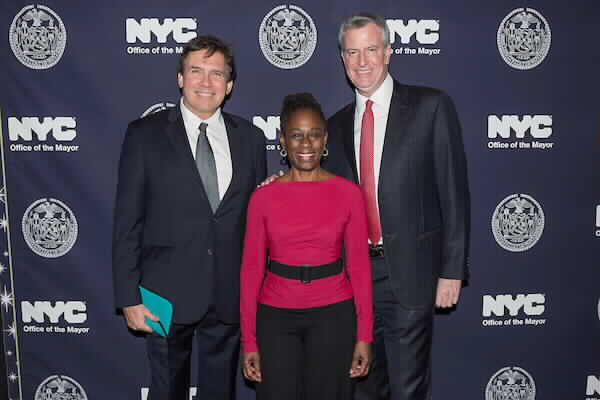 Frank X. Didik with NYC Mayor Bill DeBlasio and first lady Chirlane McCray, at Gracy Mansion.
OP-ED
Massive inflation coming? Frank X. Didik, January 2, 2020. At the start of 2020, it is estimated that the United States national debt was 21 Trillion dollars. As of January 2, 2021, as a result of the vast "printing" of additional money for Covid Relief and other expenses, this debt is estimated at just under 30 trillion dollars. Surely, one would think that a 30% increase in money supply would lead to significant inflation, but this has not happened. I believe that this is primarily because of vast production surpluses, on every level including manufacturing, services and farming. Robotics, efficient computerized allocation of resources and transportation has produced enough for everyone, without pressure on the market.
DO NOT DEFUND THE POLICE With skyrocketing crime, it is clear that NYC must have an effective and well funded NYPD otherwise we will be like the wild west.
Similarities between the current lock-downs and Prohibition Frank X. Didik, January 2, 2020. Many people feel that the shock of the lockdowns is unique in American history. This is not the case. There have been many shocking, similar instances of business closures or being greatly curtailed in American history. Some examples include in 1919, with the introduction of Prohibition, when all of the bars and liquor stores were suddenly closed and it was impossible to legally purchase alcohol. Clearly it was shocking when the leisurely pint after work and the closures of bars, must have been shocking. Prohibition ended in 1933. During World War 2, there were also many restrictions on rationing of many previously common items such as meat, sugar, gasoline and other items. Similar restrictions and shortages also occurred During the Civil war of 1861-1865 and the Revolutionary War of 1775-1783.
Remote working, office space, the diminished need for employees Frank X. Didik, January 1, 2020 It is fascinating to note that as a result of the government imposed Covid-19 restrictions, that for a period of time, an estimated 30% of the population was out of work, and yet the country did not experience any long term shortages, in any area. One might say that this is a wake-up call for companies to show them that they have too many redundant employees. read more
Does constant mask wearing reduce cognitive ability? Studies have shown that people inhale between 7% and 12% of their exhaled breath, with an accumulation of carbon dioxide. Does this cause minor cognitive loss for the wearer over time? Further, over time, the masks quickly become both moist as well as becomes a breading ground for bacteria. Also, does the additional stress on the lungs to breath through a filter effects the lungs? More studies must be performed to determine if mask wearing causes biological issues as well as phychological issues over time.
Lockdowns benefit large companies at the expense of small stores and businesses Frank X. Didik December 16, 2020
It has become obvious that the lockdowns, imposed by most of the states to control the spread of Covid-19, has clearly benefited large companies, particularly on-line mega-companies, at the expense of small, local businesses, that were forced to either close their doors or greatly curtail their operations. It was estimated that these small companies and stores represented about 60% of the economy. As a result of the government imposed lockdowns, much of this bushiness activity and wealth has been transferred, perhaps permanently, to the on-line stores. This is rapidly creating a vastly different business environment and potentially will reduce the ability of an individual to start their own business in the future.
NYC heat wave
NYPD Chief of Department attacked
Thousands of New Yorkers are leaving
A new job apprenticeships website
New Federal hiring guidelines
NYPD shows extreme professionalism and restraint Read more
NYC under curfew read more
Stores looted May 31, 2020 read more
Protests erupt in NYC read more
Congress proposesTRACE Act read more
History of Corona Virus read more
Gasoline & fuel prices plumet read more
Covid-19 April 2020 news. read more
Corona Shut-down read more
Congress aproves of2 trillion read more
Protestors object to shutdown read more
Photographs of empty New York Citymore
Federal reserve on Covid-19 read more
OP-ED
Defund? Some anti-police groups have called for the defunding of the police around the country. Question: late at night, if you are traveling in an empty subway car and two police officers come on, do you feel threatened or are you relieved and hope that they stay on for the duration of your trip? The answer is obvious. The police are essential to maintaining order in any society.
Corona Paycheck program read more
Remote salary protection read more
Internet censorship read more
People should be responsible for themselves and carry their own weight in society read more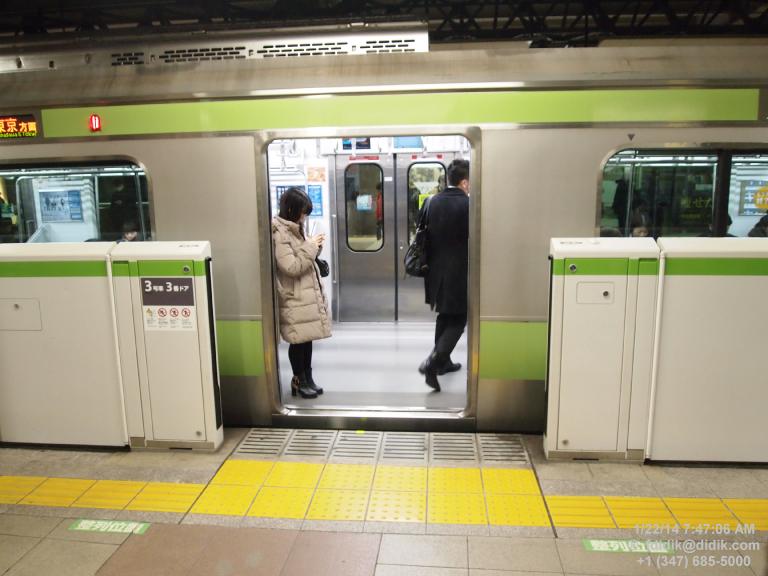 Subway Safety-Subway Gate Every year hundreds of people are killed or severely injured when they fall onto the tracks of trains and subways. The prevention is cost efficient and greatly reduces liability ... read more ...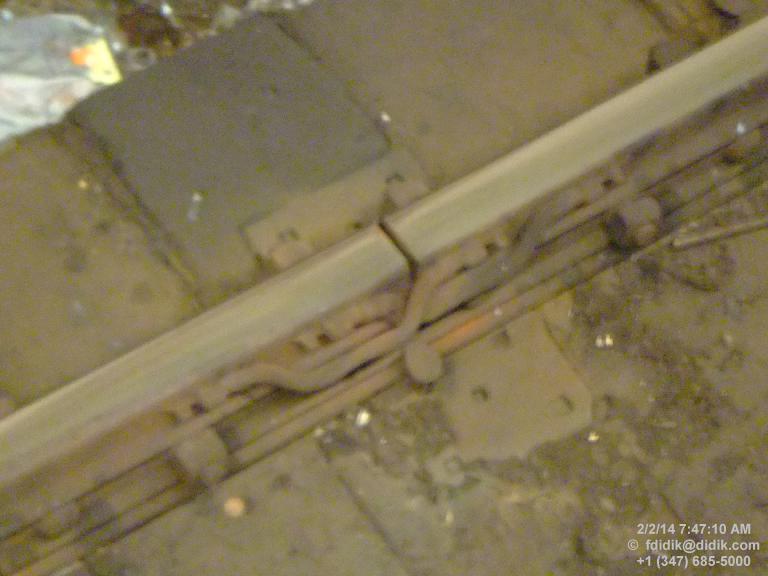 Greatly reduce train noise A significant amount of train noise is caused by the train wheels rolling over the expansion joint of the tracks. This vibration creates noise, vibrations, an less pleasant ride and also reduces the life cycle of the train. The solution is relatively simple and cost effective..read more ...
Corona Virus: What I have observed regarding the Corona Virus can be read here. Further, my photographs of empty New York City, can be viewed here.
Pentup Demand caused by Covid-19 lockdown? Unlikely. People are used to staying home, have developed new habits, and after being out of work, will probably want to save money.
Hysterical Fears pushed in the media and other sources: What ever happened to Y2K, the Ozone hole, nuclear winter, missile gap, read more
Restaurants and Bars will spring back? Very unlikely. People go to these places not only to eat and drink but primarily to socialize. If people are social distanced, why go out?
Corona Virus "Experts"? Who is to say who is an expert when the entire virus is a new event and nobody has any real understanding what is going on. This is like the transition period of Eastern Europe from 1989 to 1992, when so many "leading experts" came from nowhere and gave the public their speculation with truly disastrous results, causing massive inflation and economic failure in countries who followed their "advice".
Question If you can live for a thousand years, but have to live in a 12x12 foot (3x3 meter) room without ever leaving, would you do it? I prefer to live life to its fullest and accept the risks. Everything in life entails a certain risk.
Forced vaccinations? But Why? read more
Do more people die because of the Corona Virus or because of the lockdown? read more
Is Covid-19 as widespread as suggested? read more
Liberal Governments verses Conservative Governments read more
Career first and family later? read more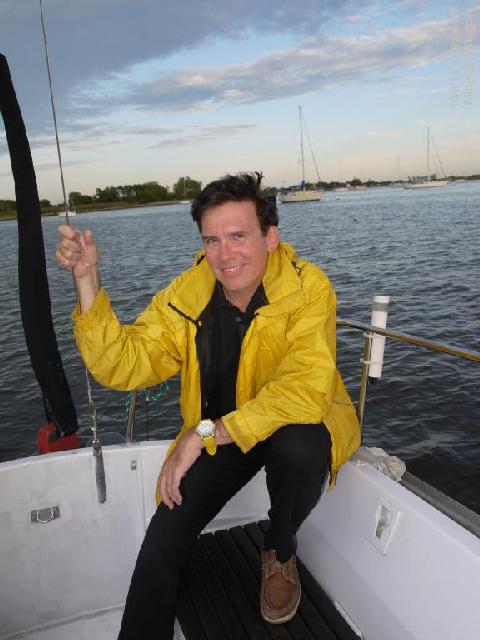 Frank X. Didik aboard "The Futurist", anchored in a New York Harbor.
Thoughts on science, business and society today
By Frank X. Didik - News1.net editor.

What if and what can or might be.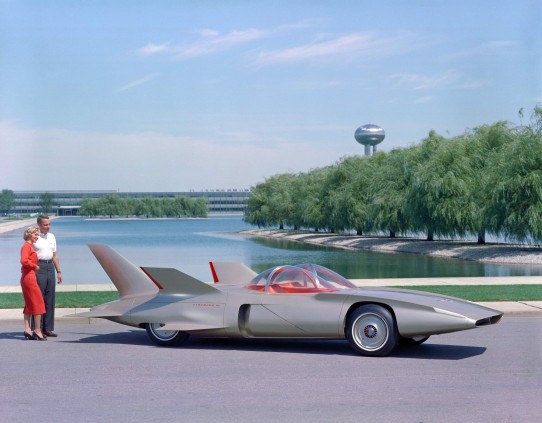 The 1956 Firebird was to be self driving.
Self Driving Cars? If you have an accident with a self driving car, who is at fault? The car manufacturer, the owner of the car or the occupant "driver" of the car? I have enjoyed owning and driving some of the most interesting cars made and have always enjoyed the freedom of driving without impediments or restrictions. Nevertheless, if self driving cars can help reduce accidents and enhance society, I am for them. Besides the technical aspects, there are many other issues that must be worked out. My concerns regarding self driving cars including liability, safety, morality and effectiveness. ...read more ...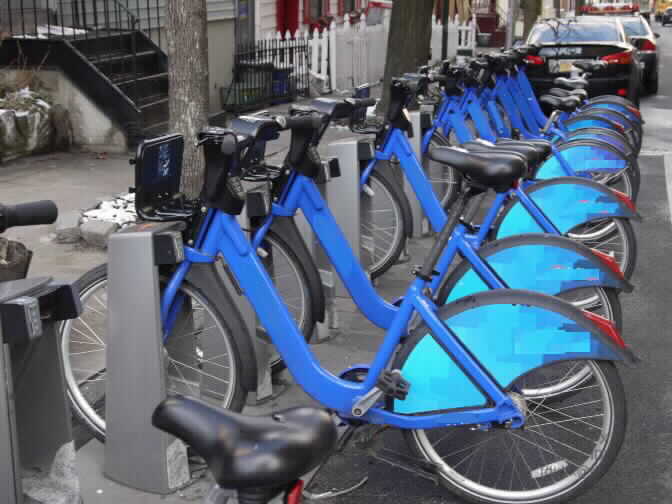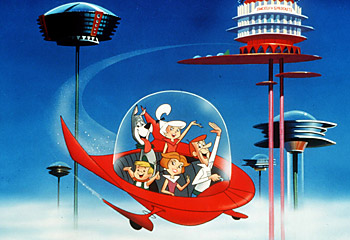 Bicycles? What ever happened to jet packs, flying cars and advanced technology that in the past, was predicted that we would be using by today? Why are bicycles being pushed by cities world wide?...read more ...
Question: If people who are protesting are paid to protest, is it really a protest?
Question: If a humanitarian organization is paid for their services, are they really a humanitarian organization?
Question: If a charity receives most or all of its money from the government, is it really a charity considering that the tax payer is paying for their services?
Cell Phone Etiquette
Advice for the modern person - December 9, 2016 read more
Time to Rethink Bike Lanes
Advice for bicyle based cities
- August 3, 2016 read more
On Education
Rethinking school and our education system
Should everyone attend college or university? ... read more ...
Can a college or a university really teach a person to be a businessman or an artist or good in any particular field? ... read more ...
How come all college undergraduate degree's require four years? Should some degrees require only one year while others perhaps six years? ... read more ...
What courses should and should not be taught at college or university? Can college or a university teach a person how to be a good business person, or how to be creative? ... read more ...
Reason, Logic and intellect is not reliable. The late Christopher Hitchens often stated that we should rely on our logic, reason and intellect to determine the truth. Many people who pride themselves as educated, intelligent and progressive believe the same. As reasonable as this seems, Galileo proved over 400 years ago that our logic, reason and intellect is unreliable and that only direct experimental data, should be relied upon. Galileo had dropped two balls of the same material, but different masses, from the Leaning Tower of Pisa to demonstrate that they would hit the ground at the same time, rather than the heavier ball hitting the ground first, as almost everyone, including Aristotle, 2000 years ago, had assumed. Our logic, reason and intellect is not reliable and should only be viewed as speculation. Only direct experimentation and obtaining the same results, over and over again should be relied upon.
What about? ..
Old Computer Formats and the longevity of our digitally stored knowledge. Are we entering into a "pre-history" era? How can we preserve our computer written records, books, photographs, video and knowledge? We must have an international agreement and an organization, perhaps under auspices of the United Nations, dedicated to preserving our global digital records so that future generations can access the information and knowledge that we store on computer readable formats.
If you wanted to, would you be able to read a:
3 1/2" or 5 1/4" or 8" floppy?
cd-rom or a dvd?
12" optical disk?
9 track tape?
IBM punch card?
Paper punch tape?
If you can not read these one or two generation old formats today, how will society be able to read these documents in 200 years from now? In a few years, our latest computer formats and storage devices, such as USB drives, will also be obsolete. I have deep concerns about the longevity of our knowledge and of computer records, ...read more ...
What if the decay rate of elements varies rather than being a constant? Imagine, if this is the case, it would mean that all archeological dating is in question. How old are artifacts? When in fact did the dinosaurs really die out? Further, consider that ... read more ...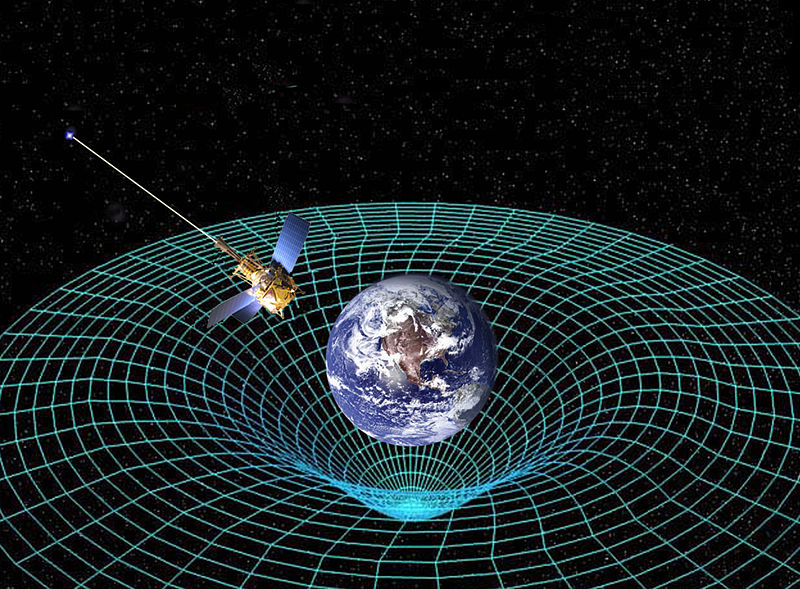 What is the speed of gravity? If it is instantaneous, then what if gravity can be modulated? Today most scientists, assume that the speed of gravity is the same as the speed of light, but what if the speed of gravity is instantaneous? Further, if gravity can be modulated, it might allow for instantaneous universal communication. Thus it might be possible to communicate with space craft instantly, rather than waiting for minutes for transmissions to reach the craft or earth. Perhaps computer chips can be made to operate vastly faster. And this is just the beginning since ...read more ...
On Business
Investing in Startups. Good idea or bad? Is investing in a Startup, that has never proven itself in the market place, a good idea or a waste of money (and talent)? Historically, investors invested in companies that were swamped with orders and making money, but needed additional money to ... read more ...
Most efficient brain-storming method and how to make morning office meetings more productive and interesting ... read more ...
Superior advertising results
Producing the very best and most effective TV commercials The single purpose of a television commercial is to sell the product or service. The fact that an advertisement might be interesting, funny, informative or well produced is secondary to the main purpose, which is to sell the product or service. One should never leave the creation of the television commercial to the television producer or the video editor. ... read more ...
Building the most effective business websites Never let a "web designer" develop the website for you. A web designer should be produce the website under the supervision of an on line marketing master, usually working with ... read more ...

There is an alternative to population control. Restricting and discouraging the formation of families in order to stabilize or reduce population infringes on the freedom and rights of every human. There is another much better approach...read more ...
Questioning the results of modern science. For the last 100 years, we have been experiencing the collapse of real science. Theories, speculation and fantasy is the norm today. By definition, the scientific method is the ability to test and re-test and always get the same results, over and over. If an idea or a theory can not be tested, the idea must be viewed as speculation and not considered true, till that idea is proven without a doubt. Scientific theory has moved to areas that are beyond our present capability of testing and gradually a number of unproven theories have become accepted as fact without any real proof. Further, new theories have been developed based on old theories. Thus we have a situation where science today is largely based on theory upon theory. If something can not be proven, it falls into the realm of philosophy rather than science. This has led to...read more ...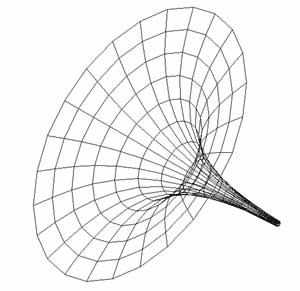 What if time varies along with all things, rather than being a constant? Consider that...read more ...
Can the speed of light vary, even if traveling under the same conditions, or in other words, is the speed of light really a constant? According to Einstein's theory of relativity, the speed of light is a constant but ...read more ...
Science and media hype: Any sudden "revolutionary" scientific discovery, even if such discovery is written about in every newspaper and scientific journal, should be greeted with skepticism. Such a discovery should only be accepted after the bulk of scientists have have had a chance to review the discovery and confirm that it is in fact correct. Such things that come to mind include cold fusion, the so called "God Particle" and even the recent stated discovery of a "gravitational wave". All too often such media hype has come and gone without any real discovery or fundamental change. ..read more ...
What percentage of information, contained in science books is accurate and true? Are we in a post science period? Many science books today present ...read more ...
It is time to retest scientific properties. Verify results. I suggest that the properties of all materials be re-tested using modern technology and certify the results. Melting and boiling points, conductivity, hardness, and all physical properties of materials should be re-tested ...read more ...
Honesty and integrity in scientific research is essential in order to advance our knowledge base. When a scientist has worked for years to prove a particular theory and finds out that their work hasbeen in vain, it is difficult to admit that their original assumptions were wrong. Still it is vitally important ..read more ...